Psychiatry by Skype or Phone in Japan
Counseling and psychotherapy by Skype or phone from Tokyo Japan
Tel: 03-3716-6624

Skype Psychiatry and Counseling Service in Japan

The American therapists at the Meguro Counseling Center located in Tokyo are available for phone or Skype psychotherapy. The Meguro Counseling Center therapists are experienced in individual mental health counseling, marriage and couples counseling, child and adolescent counseling, family therapy, and group psychotherapy. While located in Tokyo, the Meguro Counseling Center has found that effective therapy and counseling is possible via phone or Skype and has considerable experience using Skype and/or phone for persons living far from the Tokyo area.
A friendly and compassionate atmosphere is key to a successful therapy. A balance of the different major types of therapy (cognitive-behavioral, psychodynamic, supportive, group psychotherapy, and others) is employed to help each individual with their specific needs. Please see the other links on this site for further details.
Sometimes severe depression or anxiety may require medication therapy in addition to counseling. Our therapists are well-versed in psychopharmacology-integrated psychotherapy and can provide you with information and recommendations to guide any psychiatric medication. Your therapist can either suggest medications to a Dr. in your area who will give you a local prescription, or your therapist can arrange for you to have a Japanese physician that is affiliated with our Center mail-post you a prescription for medications that your therapist recommends that you can receive at a local pharmacy if you live in Japan, or order this medication from an overseas pharmacy if the country you reside in allows personal imports. In addition, therapy fees can be conveniently paid on-line with PayPal.
Please feel free to contact the Center for an initial Skype or phone session if you or a loved one is in need of help.
---
|Home|Japanese(日本語)|Emergency Information|Counseling Approach|Psychodynamic Psychotherapy|Cognitive Behavioral Psychotherapy (CBT)|Group Psychotherapy| Marriage & Family Counseling|Child & Adolescent Therapy|ADD/ADHD|English Speaking Psychotherapy|Core Issue-Defense Paradigm|Depression Symptom Checklist|Depression & Anxiety|Psychiatric Medication|Clinical Case Examples|Tokyo Families Articles|Mental Health Search/Links|Japan Links|Mental-Health Books|Hong Kong Therapy|Skype Therapy|Corporate Services|Therapist Profiles|Psychologist in Tokyo|Practice Information|Code of Ethics|Location & Therapy Hours|Contact|Doug Berger, M.D., Ph.D.|News Articles|

Counseling Links
The Meguro Counseling Center consists of Western-trained therapists able to provide face-to-face mental-health care for the international community in Tokyo. With extensive experience in Japan, these therapists have a deep understanding of the stresses of living in Japan.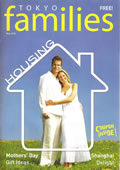 The Meguro Counseling Center provides community education on mental health topics through the Tokyo Families Magazine.